You'd think this would be an easy article to write, I mean what's not to be grateful for right ? Then again, being grateful is more than just saying thank you. I could just write a big long list of everything, you read it, we'd all agree and go home. Well, the more I thought about it, the more I became confused. Actually, confused is the wrong word. I Just didn't know where to start. Then I did. I am grateful for the opportunity to be able to share my thoughts with you.
There, how hard can it be ? I could follow that up with saying how thankful I am for your time and effort in reading my posts. I feel better already. Interestingly, only yesterday I read an article about being thankful and the author postulated that being 'grateful' is actually beneficial to our health. This intrigued me, so I did a quick search and here's what I found.
There were six other factoids in the article. It was from the Psychology Today website. They were all good one's too, from sleeping better to quelling all of those negative emotions we can have from time to time. Who knew. So to Jules, who made me aware of the phenomenon, I thank you. Now I feel better again.
It's ironic that I finally got round to writing this today, as it's Thanksgiving day in the USA. 28TH November 2019. There's been a melee of online activity and an outpouring of love and emotions. I would be foolhardy not to bathe in that inspiration and turn it into my own appreciation of all that is 'gratitudinal', if that's even a word.

I made some notes, as is good practice, in preparation for this post. So far I'm ad-libbing. The notes are salient but I wrote them to try and help me grasp exactly what it was I wanted to say about being grateful. There does seem to be a never ending number of levels to it. Not least the connection with saying 'Thank you' they are intertwined in our understanding. Yet they differ depending on when and where they are used.
Someone may hold a door open for you and you say thank you. Yes, you're grateful for the gesture but you don't necessarily have the same feeling as when you're struggling to lift something and someone lends you a hand to complete the task. Then you feet more grateful because you are fully aware that without their help you would have struggled and might not have been able to complete the job in hand.
So being grateful is more to do with how we feel rather than how the other person is being thanked for their help ? Are we grateful for or grateful to ? Now you understand why I was having difficulties getting this started. Maybe I'll just layout my thoughts and you can decide which, if any, are relevant or on the mark.
It could be a way of making sure we don't take things for granted. Yet we quite often forget, sometimes for days and weeks on end. Then something will remind us and we have a sense of being grateful. Those of you who have religious beliefs can very well be grateful on a daily basis, through prayer or 'grace' before meals. Thankful for all you have and for those around you.
If we are humble does that mean we automatically have a built in feeling of gratitude ? That in turn makes me think more of
the different levels. I'll start with a quote of unknown source but does have a way of being at the start of where gratefulness begins.
"Everyday above ground is a good day"
It's not a morbid thought but more one that strips everything away and makes you think that no matter what your life is like, the alternative is far worse. Though I am sure that their are some that might disagree, depending on their personal circumstances. We can all hope that life can get better, even if it doesn't seem like there is light at the end of the tunnel, sometimes.
Would I be right in saying that those who take things for granted are the one's who have more to be grateful for ? I cannot list all those who have less fortunate lives than mine because I am sure I will overlook someone. Those who are being persecuted on a daily basis are surely grateful for respite. Those who live on the streets without homes are grateful for shelter, warmth and food. Things that I take for granted yet am grateful for but forget to be regularly.
Those who are estranged from loved ones are grateful just to hear word that they are safe. They may not even be physically far apart but the work they do has levels of risk that we take for granted, yet their families are grateful every time they return through the door at the end of the day or shift. Grateful that the phone doesn't ring with an unknown number or the door gets knocked when no one is expected.
The above are all very real examples and, like I said, there are to many to mention but if you give it some thought, I'm sure you will come up some of your own. Some things cross the divide, as is apparent in a couple of the examples above. Whether you're rich or poor, it still allows one to be grateful for our loved one's being healthy and safe. There is though a difference between being thankful for not getting stuck in a traffic jam and being grateful that your test results came back negative.
If, you think you have nothing to be grateful for then maybe think that there is always someone worse of than you. We can't feel the guilt for everyone's problems, that's not possible or healthy. We can however be grateful for what we have. The chances are, if you're reading this then you have plenty to be thankful for.
Many are out there in the world, as we speak, being grateful for a good crop harvest, for food on the table, albeit it might just be bread, for work so that they can have money for food and clothes, for their health and the well-being of their children, siblings or parents.
Being grateful that we have good friends. Friends that will be there for us when we need them the most, who will put their own life on hold while they tend to us. Still, this has turned into one long list, which I was trying to avoid. Being grateful is something we should relish remembering to do. As I've been writing, this came through into my inbox, from a subscription I have, so it wasn't spam.
"Don't get me wrong: being in a state of gratitude all the time does not mean you're grateful for everything – that's just impossible.
It means that you're constantly connected to all the blessings in your life and you're always able to find the lesson and positive side to every situation or outcome."
They seemed to have summed it up quite nicely. It's true though, we could spend an enormous amount of time just being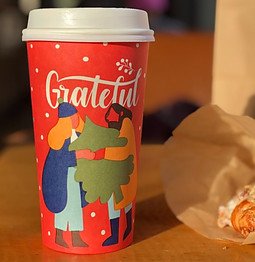 grateful for things and that isn't possible or needed. It's not a test. I have a 'Grateful stone' that I keep in my pocket. Every time I put my hand in there to pull out some change I can feel the stone and it is a trigger to feel grateful. If, you wanted to you could turn it on its head. If, you are in a situation that isn't the best, you have a challenge, you can be grateful for the opportunity to learn from the experience. That in itself is a great way not to get sucked into the negativity that life can throw at us.
One more quote and then I'll leave you be, you might be grateful for that.
"We all have the ability and opportunity to cultivate gratitude. Rather than complain about the things you think you deserve, take a few moments to focus on all that you have. Developing an "attitude of gratitude" is one of the simplest ways to improve your satisfaction with life." Amy Morin.
Life is not promised and doesn't come with a guarantee of either prosperity or longevity and can change in an instance. Be grateful for what you have because it's worth remembering that those who have little are grateful what they do have.
Be well.
Twack Romero.