Giving of oneself without conditions (Altruism) is hopefully going to give you a slightly different take on altruism. One of the words or phrases that springs to mind is 'selflessness' and that is indeed a noble and worthy way of trying to explain it.
When we talk of selflessness we think of doing something without thought of ourselves. The consequences of our actions bear no relevance on our actual 'doing' of the action. That's getting closer.
Over time, I think the word altruism has become diluted. I would like to add some concentrate back into it and maybe even redefine it so that it gives you a better understanding of how I view it and how my own definition guides me and all that I am trying to accomplish with everything to do with Twack.
Extreme Selflessness is not it.
The most grandiose act of selflessness would be what ? Giving away all of your worldly goods to those who need them and then going off into the woods to live in a tent and spend all day thinking about how your thoughts and words might be able to change the world for the better. Let's think about that. No, let's not.
Let me just say, before we get into this, that I have no issue whatsoever with anyone doing anything, if they think it will make a difference in the world or in someones life. No matter how big or small. I am not so sanctimonious in my thinking to say that your way of giving is any less worthwhile than mine. Far from it.
I am a firm believer that if we all do something, that is far better than doing nothing. Period.
That said, sitting in a forest 24/7, communing with nature, as idyllic as it sounds, isn't going to cut it.
The Definition
Here's what we're dealing with in its current form. As defined by the dictionary. Not verbatim but pretty much all dictionaries seem to have the same basic definition.
"The principle or practice of unselfish concern for or devotion to the welfare of others, selflessness"
Well, I wasn't off the mark by saying it was selflessness. Deeper explanation, for want of a less esoteric word, goes further by saying that
"altruism is the unselfish concern for other people and doing so simply out of a desire to help and not because you feel obligated to out of duty, loyalty or religious reasons."
Interesting that religion is given a free mention when it comes to the act of altruism. Mmm, OK, We'll leave that one alone for the purposes of this post. I have no opinion on that one way or another. If I did, it would detract from the meaning I want to convey.
What It's Not.
I have touched on this when I was talking about 'Paying it Forward' but only lightly and in context to that particular article. If you're interested you can read it by clicking on the link below.
===>CLICKE HERE TO READ TWACKS ARTICLE ON 'PAYING IT FORWARD'<===
It's not a favour. I'm probably going to dig myself into a hole from this point onward, hey ho, shovel ready, here we go. When someone asks you for a favour and you happily oblige, that's not altruism. Even if it means you lose a day helping them or half of your paycheck to bail them out. Yes it's a beautiful thing to be able to help a friend in need. Altruistic it is not.
Without getting into a lengthy debate, let's just go with two reasons, remember, it's not a debate. Save that for when you've read the whole post otherwise it will get taken of context.

First of all, you've been asked. Whatever the circumstances, you didn't offer to help. Leave it, no debating. Secondly and you can take umbrage on this one till you're blue in the face (Please don't though, it really isn't a good look) you'll want something in return. "You owe me one" or "Don't worry about it, one day I might need you to return the favour" or even "Remember when I….."
You'll say you won't but deep down, or maybe not that deep, you'll make a mental note that you did 'so-and-so' a good turn. A debt (strong word, I know) that one day you will call in.
Now, before you get your hackles up, if they're not already, this is not a bad thing. You're not a horrible person. You're a good person, you've just done someone a good turn. Yay you. You and me both. We've all done it, that's the way it is. I refer back to my earlier statement. Anything we do that helps someone is a good thing.
It did, however, come with a condition. It may have been unsaid and uneven unthought (not a real word) on a conscious level. The condition being that somewhere down the line you will remember your act of kindness and choose to go knocking on that door in your own time of need. (Just so you know, that's still not a bad thing)
Without Condition Or Caveat
We're nearly there and if you're starting to feel as though you are being unjustly vilified, you're not. If by the end of this you still haven't 'got it' or have but don't agree, that's cool. No harm, no foul. Like I said, sitting in the forest doesn't do it for me but if you're into that, then fill your boots, it's all good. I couldn't write this stuff and then pass judgement. That just goes against the grain. I am merely trying to show you another side based on my own thoughts and feelings. Feel better ? Good. Let's get on with it.
A Quick Refresher.
"Altruism is the unselfish concern for other people and doing so simply out of a desire to help and not because you feel
obligated to out of duty, loyalty or religious reasons."
So, we're doing it out of a simple desire to help, yes? How does that make you feel ? Good, bad, indifferent ? None of the above ? The chances are it will make you feel good. You've done something, helped someone, you should feel good, shouldn't you ? Maybe, but what if that's what you wanted from this altruistic transaction ? Now you have gained. How different is that from doing a favour ?
You have done the deed and expected something in return. Or, maybe you didn't expect anything in return but you felt good about yourself after you did it. Whether asked for or not, if you have come away with that feeling then you have benefited from the act.
Can you honestly say that if someone asked you how you felt afterwards you would say you felt nothing ? You were completely ambivalent ? If you can, then I am surprised you are still reading because you have it already. In the words of Professor Henry Higgins "By George she's got it"
If not, then keep reading.
Finally, It All Makes Sense
So the last section let 'the cat out of the bag', so to speak. Not so quick, my friend. Remember at school when we had to do comprehension ? Read a chapter, close the book and then answer some questions. Not my favourite part of the lesson. Probably because the subject matter was normally boring. I hope you've not found this boring, if you have, keep it to yourself.


Is it possible for me to finish up with a definitive definition ? Am I splitting the infinitive there ? How many more rhetorical questions can I ask ?
We pretty much know what altruism is according to those that write the big books. We also know what it is not, even if we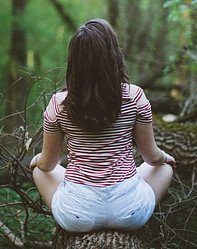 thought it was (and some may still think that) Then we just about summed it up, as to what it should be, or could be, or is according to me, or how I like to think of it.
If I had to give to use a metaphor or try to explain in a way that it 'clicked' for you, I would struggle. The criteria is all set out but the realisation that you achieved it will be harder to come by. I think you'll just know it when you know it.
Sitting cross-legged with your eyes closed saying 'Om' is not, by defintion, meditation, nor does it follow on that when you do finally manage to meditate you are going to be instantly enlightened. These practices take time but you will 'know' when you have succeeded in either.
To help, let's see if I can precis all of the above. I could have done that at the start but where's the fun in that ?
"To give of yourself in the pursuit of helping another without thought for yourself. Self-gratification not being a prerequisite.
Not asking for or wanting anything in return and in doing so feeling nothing more than it was just the right thing to do."
There, are we close ? I could try to do more in the 'sum up' but then I feel I might just be going round in circles. I think by now you get the gist. I also think that taking this whole altruism thing one step further will make a huge difference in other areas of our lives, in how we view ourselves and others and the world in which we live in.
It's not an easy step to make but one that I think is worth it.
Yours thoughts, questions, admonishments and comments are always welcome.
Be Well.
Twack Romero
===>CLICK HERE TO LEARN ALL ABOUT TWACK'S FOUNDATION FOR THE FUTURE<===